Grace Cathedral, San Francisco, Saturday, May 6, 2006
(Photos from the San Francisco Chronicle)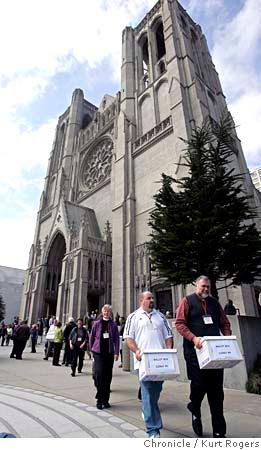 We are marching, with a box of votes...

The Diocese of California elected the Rt. Rev. Mark Handley Andrus, currently Suffragan Bishop of Alabama, to succeed +William Swing as diocesan. He will be seated in the cathedral on July 22.

If you squint, you can see me in the above photograph; I'm fourth in line walking the ballot boxes to Diocesan House. I signed up to volunteer, though I'm not canonically resident here, because how often do you get to witness an episcopal election? We're doing it at home in a year; it was wonderful to see what such an occasion is truly like. We'd heard so much speculation about what California might do, all of it preoccupied and some of it hysterical. In truth, this was a productive, prayerful time. Delegates were intent on doing their jobs. We began with the Liturgy of the Word, through the Peace. Then, after three ballots and much joy at the outcome, we proceeded to the table. After Eucharist, my friends and I went home, happy at the decision and relieved to have some time that day for homework.

The only thing I'd have changed about the liturgy: There were 500 clergy and lay delegates in the cathedral. The place was crawling with priests and LEMs. Still, we had only two communion stations. It took much longer than it needed to. I told the seminarians I was with, "Hand me a chalice; I'll help!"

The fun thing was getting to play mole. +Andrus has been my friend Robyn's suffragan. I called her, after he'd been elected on the third ballot, with the news. She had to leave the GTU library so she could scream. She loves him and will miss him as her bishop, but she's very happy for him and for DioCal.

I know next to nothing about +Andrus, except that he's mentored my own suffragan bishop. I met him once, briefly, in Olympia the day after she was consecrated. He struck me as real, and approachable. Robyn confirmed that. "No, he's not a politician." He will pastor the clergy here, and do it well; he will also be free to exercise the full gifts of his ministry. Everyone I know is happy about this.

This election was not about sexuality, but about proven skill, compassion, and listening to the active presence of God. I have to laugh at the Reuters headline: "Heterosexual elected Bishop of California." Are we not more than our orientations?

Here is the text of +Andrus' address to the convention, delivered by phone from Alabama immediately after his election. I have to say, I am happy about this, and about him.

Dear Brothers and Sisters in Christ:

Sheila and I are gladdened, and humbled, by the trust you have placed in me, in us.

Publicly, I want to say that my heart is with the other nominees and their partners. They are uniformly splendid people, and I was honored to be in their number.

Also, to all of you who have been so prayerfully working to bring this moment for your diocese, the election of a new bishop, you must know that you have exhibited every trait of a Christian community. You are a witness to the vitality of the Church in your very way of being.

We must all understand, and here I address the diocese of California and those listening from elsewhere, that your vote today remains a vote for inclusion and communion – of gay and lesbian people in their full lives as single or partnered people, of women, of all ethnic minorities, and all people. My commitment to Jesus Christ's own mission of inclusion is resolute.

And I share with you your strongly expressed commitment to youth, to those who do not yet know Christ, our calling as evangelists, and to God's waiting, expectant creation.

I take this election to be an expression of our common desire to be part of the whole, the Communion and the world, in what may be a new way. We will work together in the listening process, lending the unique voice of the Bay Area Episcopalians to this great conversation and working to end global human suffering.

Finally, let me say that being nourished as a bishop by the Episcopal Diocese of Alabama, fed by the historic and living witness of so many heroes of the struggle for human rights, whose words and deeds of compassion and justice have inspired and sustained me, I say to you the words of a west coast hero – "In the cause of peace, we cannot be sprinters, we must be long distance runners."

Please join me in prayer. God Be With You.

"Oh God of unchangeable power and eternal light: look favorably on your whole church, that wonderful and sacred mystery; by the effectual working of your providence, carry out in tranquility the plan of salvation; let the whole world see and know that things which were cast down are being raised up, and things which had grown old are being made new, and that all things are being brought to their perfection by him through whom all things are made, your Son Jesus Christ our Lord. Amen.