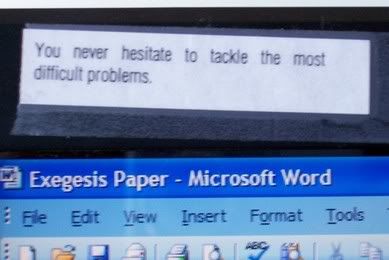 The fortune comes from the Chinese place that the Apostle in Exile took me to, when I made an impulse trip out there last weekend. The paper is late. But, here we are, and I'm doing better.

The fishbowl I live in can be unnerving, but it's really all right. People do care. I talked with my advisor this morning. I was afraid to, but it was healing and good. It's hard for me when I don't live up to what I think I should. I've been trying to disprove a difficult criticism for a year. It didn't come from anybody here, and was nowhere near fairly given. But it stuck, and I've been trying to prove it wrong since.

My friends have given me perspective. They tell me that I am, and have been, a capable and worthwhile human being. With everything I've dealt with in the past year, I'd have reason to be gibbering under my bed. I'm not. I feel fragile, but under that I'm strong. And tears, quoth Molly, are "the least offensive fluid to come out of our bodies."

I'll get through. And I'll be able to pay it forward when I do. That's what makes this worth it. My friends are loving me now in ways I didn't know were possible. I am not the only person in the world who couldn't have conceived of the gifts they're giving me. Receiving them, I know they exist, and I can love like that. Everyone on this earth needs easy, total, unquestioned acceptance and freedom. You cannot heal without it.

I've learned something huge about healing, myself and other people. I have this tool, and I know I can use it. Thanks be to God.